T.Rextacy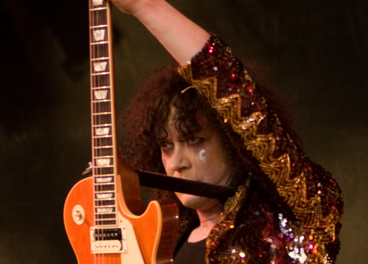 T.Rextasy, the ultimate tribute to Marc Bolan & T.Rex, made their debut on 18 September 1992 in a small club in Hackney, East London.
The venue sold out with new and old T.Rex fans, including ex-T.Rex drummer, Bill Legend. Today, of course, T.Rextasy are not only hailed as one of the highest acclaimed tribute bands on the scene, but are also known as one of the few bands that actually play without the aid of samplers, backing tapes, and wigs!
They are a real live band, and are not to be confused with any of the current cabaret style pretenders of the 'Stars In Their Eyes' brigade! This is why T.Rextasy have gained the respect from Marc Bolan's contemporaries, and have been accepted on tour with the likes of Gary Glitter, Roy Wood, The Sweet, Slade, Ian Hunter, and Status Quo. Due to the band's stage performance and attitude, and not to mention the meticulous study and choice of material, T.Rextasy are attracting a wide age group. Perhaps this is why they have not only played the Glam Rock nostalgia gigs, but also with top indie bands such as Dodgy at the Phoenix Festival, and the prestigious Midtfyns Festival in Denmark, where they appeared with Blur and Iron Maiden. In the Summer of 1997 they were also asked to appear with Status Quo at Rugen Island in Germany.
To watch T.Rextasy in concert not only demands stamina, but also a healthy pair of lungs to sing along to the rocking numbers that made Bolan the leading force of Glam Rock. After the initial impact of T.Rextasy's stage presence, and the lead singer's uncanny resemblance in voice and looks to Marc Bolan, you know that you're in for an evening's worth of Bolanic hits, played to perfection and with incredible enthusiasm. T.Rextasy play for their audience, and most of them obviously want to hear songs they know and love. Therefore, the band always include T.Rex's Top 20 hits such as: Metal Guru, Jeepster, Telegram Sam, Hot Love, Children of the Revolution, Ride a White Swan, Get it On, I Love to Boogie, New York City, The Groover, Solid Gold Easy Action, and 20th Century Boy. T.Rextasy are more than just a tribute band, they are ultimately the definitive T.Rex experience of the 21st Century. T.Rextasy are booked for all kinds of concerts. To headline a club or rock venue usually demands an 80-90 minute fully blown rock 'n' roll show. A headline theatre show usually comprises a 90 minute performance including a complete and authentic T.Rex show, which would include an electric set, followed by an acoustic and congas performance, and finishing the show with a second set of electric rockers. T.Rextasy also enjoy playing support to major acts with a set-up which comprises of one hour of Glam Rock Top 20 T.Rex hits.
Once More Into The Bleach
They have performed their energy packed show all over the country and abroad. Sam, who sports the trademark blonde hair and sexy pout, performs the part of Deborah Harry.
Her look and style has even fooled the most dedicated Blondie fan in thinking they are seeing the real Deborah Harry on stage. The band wear the classic Parallel Lines look of white shirt and black trousers with ratty ties and baseball boots, whilst Sam copies the costumes of Deborah Harry (some given to her by the lady herself!). This consists of 9 changes (depending on venue).
The show is a full production affair with illuminated backdrop, full lighting show and a TurboSound 4.5k PA rig. Also when appropriate, technical back up is provided by a designated sound and lighting assistant. Into The Bleach are a unique Blondie tribute that can change their show to tailor to the venue/clients requirements.
'BLEACH' are now considered Europe's foremost BLONDIE tribute band. They have played many prestigious venues across the country including The Robin Hood, The Brook and The Limelight, Playhouse Theatre, Marine Theatre as well as performing at many private functions and corporate events which include The British Embassy in Moscow. The show appeals to a wide range of music lovers of all ages that must not be missed.
This is full on, old school, new wave, pop-punk entertainment. So dig out your thigh high boots and bottles of peroxide. Stop "Hanging on the Telephone" and book this band to feel the "Presence" of real entertainment because "One Way or Another" BLEACH are going to make your evening truly "ATOMIC"!
Clem Burke (Blondie's drummer) described Sam's voice as being "Fantastic. Sam should be on Broadway playing Debbie. Her version of Maria was amazing. Pitch Perfect. It's not an easy song to sing." The band have also been written about on Blondie's official website and are also on the same management books as Blondie.
The New Age Jam – A Paul Weller Tribute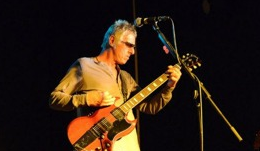 The New age Jam were formed in July 1999 and played their first gig on December 6th 1999. They gigged extensively up and down the country and soon became acclaimed as one of the top tributes to The Jam within the UK, Playing events as official Jam day in 2000 and 2001 at Guildford Civic Hall. Various Television appearances on the likes of "Cover Their Tracks" and local BBC Programmes.
After 8 years of being a Full on Tribute to The Jam at the beginning of 2007 The New Age Jam took on a slightly different approach.
They now cover all aspects of Paul Weller's career inc a couple of Style Council songs and his solo material, becoming a Tribute To Paul Weller, there is still a large choice of Jam material in the set mixed with Paul Wellers Current work. They also took on an extra guitarist to make the Solo material sound as Authentic as a possible.
Roxyrama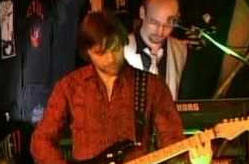 'Roxyrama' are a band formed in tribute to the great Bryan Ferry and Roxy Music. A group of accomplished and experienced musicians with a very convincing front man, we faithfully recreate the sounds and visuals of this timeless classic band with an emphasis on the earlier more 'hard edged' Roxy sound as well as embracing their latter more melodic material. Fin and Dave also play in one of Yorkshire's most popular covers bands 'Splinter'.
Atlantic Soul Messenger
Based in North Yorkshire, the nine piece Atlantic Soul Messengers play all your soul favourites, plus blues and a variety of other styles of music including hits by Peter Gabriel, the Doobie Brothers and The Scissor Sisters.
A band much in demand for festivals, thjey have played with, Status Quo, Suzi Quatro, Marillion, Hot Chocolate, Rose Royce, Paul Carrick and The Proclaimers.